本公司靠近烏日高鐵站,台中火中站 交通便利。 Our company is near by Wurih high speed train station and Taichung train station , convenient transportation.
Profile Total area of:
800 Square Millimetre
(0 Square Foot)
Built in 1979
Staff Details Production Staff: 5 to 9
QC Staff:1 to 4
R&D Staff:1 to 4
Site Advantages/Description We are near Taichung train station, only about 1.5 hours away.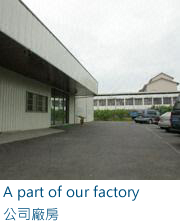 材料/元件 我們公司的原材料40%來自台灣本地,25%來自日本,25%來自冰島,10%來們中國
Materials/Components Our materials source : 40% from Taiwan , 25% from Japan , 25% from Iceland and 10% from China .
Machinery/Production Process Our total capital investment is $400,000. Our products include stitching winding impregnation assembly and seal sleeving aging and sorting and finish product. 40% of the production equipment is imported, and 60% of the production equipment is from locally sourced. The production process is 20%-automated and 80%-manual plus we have two production lines in our factory.